Canadian Health Care True Stories
The Kilby family had just lost an angel from their lives and unanswered questions about their daughter's death permeated their grief. Why did Terra bleed to death less than 24 hours after being discharged from the hospital? Did poor medical care contribute to this outcome? Was her death preventable?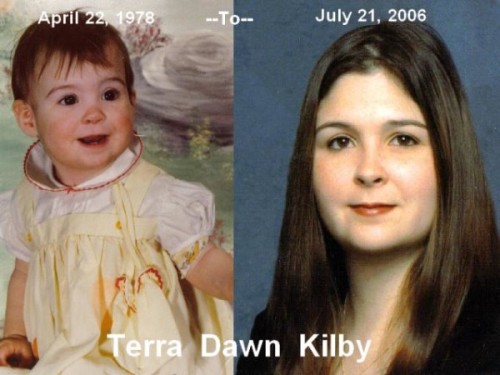 Terra Dawn Kilby was discharged from the Finch site of Ontario's Humber River Regional Hospital on July 20, 2006. Later that evening she felt ill, had trouble breathing, and then collapsed at her parent's home. The 28-year-old kindergarten teacher was rushed by ambulance to nearby Kingston General Hospital and pronounced dead in the ER.
Only ten days earlier Terra had been admitted to hospital for laparoscopic surgery to remove a cyst in her abdomen. The surgeon ended up converting to an open abdominal approach whereby he removed the cyst along with part of her colon. He then formed an anastomosis by joining the ends of her remaining colon. When a breakdown occurs at this joint it's called anastomotic leak. Early diagnosis and management of this surgical complication can mean the difference between life and death. Questions remain about the standard of care provided to Terra at Humber River Regional Hospital. Her father Arnold, a former elementary school teacher, has spent the last eight years in a seemingly endless bureaucratic maze trying to find answers. "The organizations set up by government supposedly accountable to patients are not," he says.
The Coroner's Office
Arnold spoke with the coroner from Kingston in the days following Terra's death. As months went by he worked his way up the chain communicating with the regional coroner, then the deputy chief coroner and finally the chief coroner himself. Unlike their motto "We speak for the dead to protect the living", Arnold found that they weren't saying very much at all. His request for a public inquiry was denied. His request to forward Terra's case to their Patient Safety Review Committee was also denied because the Coroner didn't find any "system-based errors" relating to her death. He was told that questions and concerns regarding the quality of medical care provided to his daughter was a matter to be taken up with the College of Physicians and Surgeons of Ontario (CPSO).
The College of Physicians and Surgeons of Ontario
In June 2007, Arnold filed a formal complaint with the CPSO. Six months later their Complaints committee reviewed his complaint and decided to take no further action. The lack of transparency and accountability spurred Arnold to submit an appeal to the Health Professions Appeal and Review Board (HPARB), a government administrative tribunal that reviews CPSO decisions for "adequacy and reasonableness". In the meantime, he continued communicating with the hospital.
Humber River Regional Hospital
What about the institutional standard of care at Humber River Regional Hospital? Arnold wanted the hospital to acknowledge that Terra's care could have been better. He wanted an apology and assurance that changes would be made so that other families would be spared the same experience. It took five months to access Terra's hospital medical records. A review of her records raised more questions. The hospital enlisted the help of an ethics doctor to act as a mediator. Hospital administrators granted the Kilby family a personal meeting in May 2008; just two months shy of the two-year statute of limitation for filing a medical malpractice suit.
In October 2010, their Chief Operating Officer sent a letter to Arnold stating, "First I want to apologize on behalf of all of us at Humber River Regional Hospital for any way in which you feel the care at HRRH contributed to Terra's death. Neither the hospital nor the practitioners in her care expected this outcome. I also want to apologize for the aggravation you have felt in getting the information you wanted about Terra's care during the hospital meeting and in your inquiries since. You and I have had many conversations in the past two years about your concerns with the care given to Terra. I have relayed the conversations to our team and we have used them as an opportunity to improve our process." The letter listed some improvements to quality and transparency. It also included an offer to create a garden with a memorial plaque and provide up to $3,000 towards grief counselling. But how could Terra's family possibly be expected to find peace without truth?
Health Professionals Appeal and Review Board
A year and a half passed before the hearing of Arnold's appeal. Another six months passed before HPARB recommended the CPSO Committee take another look at the case. The College hired its own "Independent Opinion Provider (IOP)" for the review. In July 2011, four years after Arnold first filed a complaint, the CPSO decided to provide some educational recommendations for the surgeon. Terra's discharge summary wasn't completed until five months after her death. The CPSO recommended the surgeon complete his discharge summaries in a timely manner. They also recommended he consider using antibiotics prior to surgery involving the colon. The names of those involved with the decision were omitted from the report.
Arnold's quest for truth and justice had reached an impasse resulting in even more sadness, frustration, and anger. He submitted another appeal to the HPARB. It would take close to a year for the Board to release its decision. It found the College's investigation adequate but asked for clarification as to whether or not the surgeon had met the standard of care regarding the use of pre-operative antibiotics. Once again the College turned to its hired IOP who was of the opinion that antibiotics would not have changed the outcome caused by an anastomotic leak.
Canadian Medical Protective Association
The two-year time limit for filing a medical malpractice suit had long passed. The Canadian Medical Protective Association (CMPA), a mutual legal defense fund for doctors, retains the top legal firms in every province as do the public hospitals through their member-owned Healthcare Insurance Reciprocal of Canada. Unlike David versus Goliath, a person seeking justice for medical malpractice in Canada is rarely victorious against these government-subsidized corporate giants. "The government knows you're up against a brick wall," Arnold says, "financially you can't compete."
Nothing can bring back his angel Terra, but Arnold is determined to improve patient safety by raising awareness about the lack of truth and justice in public health care. "What I've learned over the past eight years is that they cover everything up, they lie, they misconstrue what you're trying to do. They make it so frustrating that most people would have given up." His experiences highlight the unholy alliance between organized medicine and government. What happens when poor medical care causes errors leading to injuries and death? If neither health care professionals nor hospitals assume any responsibility for this care then how can errors ever be acknowledged? How will similar deaths be prevented? How many more angels will be lost?