Excellent Care For All is Just an Act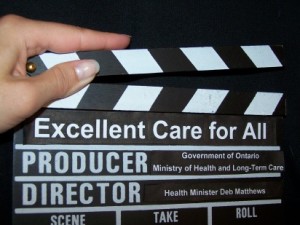 A new piece of legislation aimed at improving the quality of patient care in Ontario received Royal Assent on June 8th. The Excellent Care for All Act, 2010 comes into law as the province is desperately trying to contain its escalating health care costs in an effort to reduce its $21 billion dollar deficit. The title of the act implies the provision of high quality care for everyone in Ontario, but a large gap exists between the kind of medical care that is being promised by politicians and the kind of care that is actually being delivered to patients. 
Quality always suffers in government-run health care systems where price controls wreak havoc on the basic economic principles of supply and demand. Recent news articles concerning the National Health Service in Britain reveal a much different picture of the patient experience than what is portrayed in its June 2008 report titled "High Quality Care for All: NHS Next Stage Review final report".
The Ontario government claims its new act is putting patients first by requiring hospitals to conduct satisfaction surveys, publicize a "patient declaration of values" and a "patient relations" process. Their government health care executive salaries will be tied to performance measures and issues with quality of care will be addressed by ensuring every hospital has a quality of care committee and develops yearly quality improvement plans. However, the term quality can mean different things to different people depending on where you stand in the hospital spectrum. What does quality mean to the hospital CEO who must contain costs in order to present a balanced budget annually? What does quality mean to doctors allocated limited operating time and space or to nurses and other health care providers in understaffed, overworked environments? What does quality mean to patients waiting on lists for care and whose care may be compromised by reduced time with doctors and nurses, outdated technology and equipment, a lack of cleanliness and hospital acquired infections?
A majority of Canadians have not experienced medical care outside of Canada and therefore have nothing to serve as a comparison when it comes to assessing the quality of our hospital care. Tools for assisting patients and the public in this endeavor are limited. The Fraser Institute, a non-profit research and educational organization in Canada, provides a website with Hospital Report Cards for 2009 to assist the public in assessing hospital performance. Ontario is one of only three provinces for which a report card is available. The Fraser Institute notes that a majority of the hospital administrators in Ontario refused to allow their hospitals to be identified in the report thereby keeping valuable information regarding the quality and safety of their care from patients and the public. It will be interesting to see the quality measures and information revealed by hospitals under the Excellent Care for All Act.
With each passing year, the number of Canadians forced to seek medical care outside the country is increasing and their experiences are adding to the rising public expectations regarding access to high quality care. We all heard about the excellent medical care Newfoundland Premier Danny Williams received outside of Canada earlier this year.
In their attempts to quell public demands over public health care, our politicians continue to quickly introduce and pass various legislative acts. Canadians are keeping a watchful eye on our promise-making politicians who will soon come to realize that fancy titles no longer fool us. We know that Excellent Care for All is just an act.