Going Abroad for Medical Treatment: Canadian MS Patient Experiences Liberation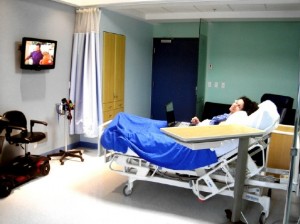 Katrina Baier was working as a health and fitness consultant when she was diagnosed with relapsing-remitting multiple sclerosis (MS) in 2003. She already knew about the importance of diet, exercise and stress reduction in helping manage disease. At age 28, she wasn't about to let MS get the best of her without a fight. Over the next few years, Katrina worked hard physically and emotionally to maintain her strength and determination. While the disease gave her some reprieve during pregnancy, it resurfaced with a vengeance soon after the birth of her daughter in 2006. By 2009 she was battling both the disease and the terrible side effects of a drug prescribed to help her.
Word of the Liberation treatment for MS spread like wildfire after Dr. Paolo Zamboni presented his research findings in late 2009. Only a handful of Canadian patients received the experimental treatment in Canada before political and medical debates surrounding its effectiveness and safety led to its prohibition. With no clear indication of when or if the treatment would become available in Canada, patients started exploring out-of-country options.
Katrina first learned about Canadian patients going abroad for the Liberation treatment from a local newscast in May 2010. It featured a story about a Saskatchewan patient who travelled to Poland to access the treatment. "I cried when I saw it," Katrina says. At that time she fully expected to be confined to a wheelchair within the next couple of years. After contacting the woman and hearing more about her experience, Katrina and her husband Tim decided they too would leave Canada for the treatment. "I didn't have time for BS and politics," she says. She quickly placed her name on the waiting list in Poland.
Two months later, Tim was playing a round of golf with a co-worker when he found out about a medical tourism company based in British Columbia. Katrina did some research and then contacted the company. Their package price of $12,000 included ultrasound scans and treatment at a private hospital in Costa Rica, physiotherapy and two weeks stay at a resort. Katrina's father, a local business owner, offered to help his daughter by covering the price of the treatment. In August 2010, four weeks after booking her appointment, she and Tim boarded a plane headed for Costa Rica.
Ultrasound scans performed before the treatment showed blockages in both her left and right neck veins. Katrina remembers exactly how she felt after the Liberation treatment. "I had blood flow to my feet, my hands were study and I could breathe better," she says. She recalls Tim hugging the doctor and saying thanks for giving me back my wife.
One year after the treatment Katrina and her family travelled to a clinic in Barrie, Ontario, for follow up scans. The scans revealed that only one of her two previously blocked neck veins had remained open. "Some people think it's a magic pill but it's not," she says, "it depends on the individual and it involves lifestyle changes. You need to be positive, eat well, do physio."
In a few months Katrina will be celebrating the second anniversary of her treatment. She no longer takes medication but is now using a walker to help her get around. Her advice to other MS patients who are considering going abroad to access treatment is to do their own research. Check out information on medical tourism companies, doctors and facilities, and talk to other patients who've used them. If you decide to leave the country remember to keep your receipts, doctors' notes and get a good accountant for your taxes. "Be proactive," Katrina says, "you are in charge of your own life."
MS patients can contact Katrina directly through her Facebook page.