Year End Site Review 2010
Many Canadians have shared their health care stories with us this year. Each of these stories provides valuable insight into the realities facing patients and their families. All of them highlight the need for changes to our health care system. We encourage you to visit the site often to read the latest news, views and commentary on Canadian health care. Share your stories, comments, and ideas for improving our health care system!
Here is a brief update on the feedback we received from you in 2010.
Your Top Five
Click on the links below to view the top posts accessed by our readers:
Ranking of the World Health Systems
An Empowered Patient
Canadian Politicians Without a Queue
Are You Winning the Canadian Health Care Lottery?
Know the Issues
Online Polls & Surveys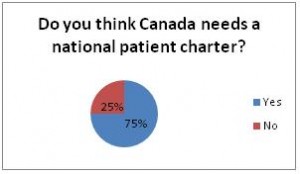 The poll attracting the most feedback from our readers featured a question about the need for a national patient charter in Canada. This type of document outlines the rights and responsibilities of patients and the health care system. Results from our poll indicate that 75% of respondents believe that Canada should have a patient charter.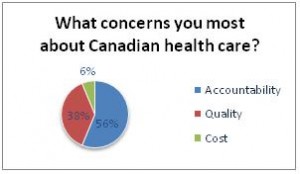 This relates to one of our earlier polls where 56% of respondents chose accountability as their top concern in health care. We recently added a new survey called Long Wait Times in Canadian Health Care to give patients an opportunity to provide feedback on their wait list experiences. Watch for more surveys to be added in the coming months.
You can now connect with us on Facebook by joining The Patient Factor fan page. Once enough fans join our page it will have its own site address and become much easier to find. Please contact us if you have any suggestions for our website or fan page. Thank you for visiting and contributing to the site in 2010. We look forward to hearing from you in the new year!