The Elephant in the Canadian Health Care System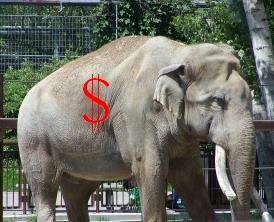 Last week the Canadian Medical Association released its Voices into Action report summarizing the feedback it received at its public town halls on Medicare. The same three questions provided a framework for discussion at each of the six town halls. The first question asked about broadening the Canada Health Act, the second about good value in health care and the third about patients' responsibilities for their health now and in the future. None of the questions addressed health care funding or spending. Money is the elephant in the Canadian health care system.
Patients aren't the only ones left in the dark when it comes to knowing the cost of medical services. Last year at an appointment with a specialist, my husband inquired about paying directly for an endoscopy rather than spending months on a waiting list. The doctor told him that he could get one outside of the country for around $20,000. I found a facility in British Columbia that offered one for $2,000.
It only makes sense that each of us should be responsible for our own health. Each of us makes personal choices affecting our health every day. If I'm going to be vigilant about my health then it's also important to be vigilant about the health care I receive. Provide me with service and price information. Let me spend my own money on my own health care that way I can compare quality and price and make sure that I am getting good value for my health care dollars. 
Despite decades of political promises, billions of taxpayer dollars and a constant tweaking of Medicare, our access to care continues to decline and the quality of care continues to deteriorate. It's time for a new competitive and innovative health care system. It's time for consumers of health care to become customers of health care. It's time to start talking about the elephant in the Canadian health care system.