Of Hearts and Minds and Medicare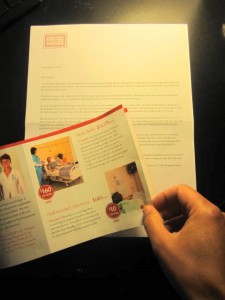 Proponents of Medicare incessantly tug at our heartstrings. It's a constant distraction that keeps us from thinking too much about the state of our current health care system. For the more time people spend thinking about their own medical needs and care the more likely they are to come to the realization that a government-run health care system doesn't really make sense.
I recently read a generic "Dear Friend" letter that I received from St. Paul's Hospital Foundation in Saskatoon, Saskatchewan. The letter outlines their new fundraising campaign called "Gifts from the Heart" and describes how to use an enclosed gift catalogue.
"The gift catalogue lists items that St. Paul's Hospital requires. Choose a single item, like a pair of pyjamas for Palliative Care Services, or share in part of a larger item. For example, a Code Response Cart costs $3,233, but you can buy one or more shares for $35 each. By selecting a gift from our catalogue, you are choosing a great option to the traditional present, while at the same time benefiting the patients cared for by St. Paul's Hospital."
According to their catalogue, I can purchase or buy shares of all kinds of required hospital equipment including stretchers, electric beds, portable ultrasound machines and scanners. I can even purchase electric recliners and wall-mounted televisions for other patients to use.
This got me thinking. If I buy my own pair of pyjamas and a share of my own hospital bed, can I then purchase shares of medical services or buy them outright? Wait a minute; it's illegal for me to spend my own money on my own health care in Canada. Can I sell my shares to a family member or friend? That's illegal too. Alas, Medicare only permits Canadian taxpayers to buy hospital equipment and medical services for complete strangers.
I decided to give St. Paul's Hospital Foundation a gift from my brain rather than my heart. After giving some thought to their latest fundraising campaign I find that it, like Medicare, doesn't really make sense.
What do you think?